THE LUCKY WINNER IS..
Getting the hang of all this. ;-) I just signed up to follow Sampler Village on Twitter! I am redhotlavagirl on there. Thanks! Angela

angelasuegross at gmail dot com
~~~~~~~~~~~~~~~~~~~~~~~~~~~~~~~~
GIVEAWAY hosted by Samplicious Villager...

6 Hand Crafted Greeting Cards (Winner's Choice)
($25 Value!)
Six Hand Crafted Greeting Cards (Winner's Choice of Handmade Cards on Website)
Card size: 5.5" x 4.25"
Envelopes included.
Each card is individually wrapped in a protective clear poly resealable bag.
Inside: Blank
Winner's choice of designs from the handmade cards posted on my website. Materials used may vary slightly but the overall theme and design will be the same or very similar to the cards pictured on site.
Winner must state item numbers and names of 6 in stock handmade card designs at end of contest. Design choices may be a combination of single designs or in multiples up to 6 total cards.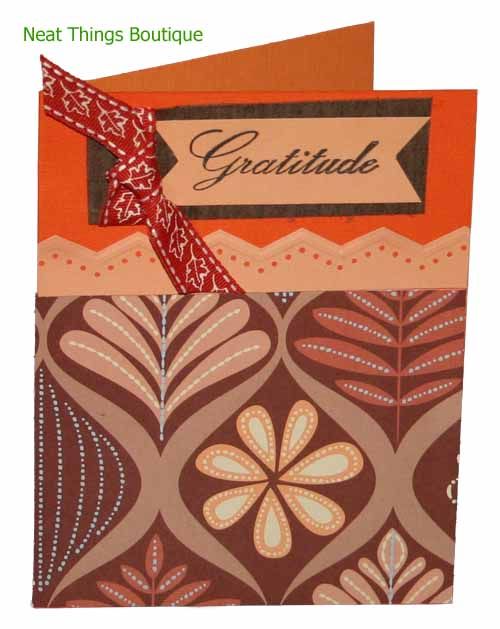 5% off sitewide purchase Code SV5blog2011.
Offer good only from the beginning of this giveaway and expires at end of this giveaway.

Go to NEAT THINGS BOUTIQUE, then come back and leave a comment about which item you like best and WHY.
Extra Entries:
(One Entry Each, Leave Separate Comments)
Follow Sampler Village Blog (see side bar)
1 entry, tweet about this giveaway on Twitter
**Please make sure I have way to contact you when giveaway has ended, leave email in comment if not in your blogger profile**
**Please leave separate comment for each entry**

* This giveaway will run through July 12th
GIVEAWAY OPEN TO U.S.A. RESIDENTS ONLY
* Winner will be selected at random from comments posted
* Winner will have 2 days to reply to the winning email notice with shipping information.
* Shipping information will be forwarded to Gaylynn so she can contact you about your choices.
**Sampler Village reserves the right to delete any negative or unrelated comments.
**Sampler Village assumes no responsibility for product being given away.
GOOD LUCK EVERYONE and HAVE FUN!!