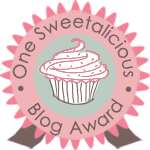 Sampler Village is starting a blog award, a SWEETALICIOUS Blog Award to be exact!
This award is to be given to SWEETALICOUS BLOGS everywhere!
Here is how is works:
Have you received the SWEETALICIOUS BLOG AWARD?
Then please share the love with other SWEETALICIOUS BLOGS.
Here is what you need to do:
- Post the award on your blog sidebar and blog about it (copy and paste).
- Share the award with 15 other sweetalicious bloggers.
- Link to the other bloggers within your post.
- Let them know you have shared this award with them by commenting on their blogs.
- Share the Love by linking to the person from whom you received this Sweetalicious Blog Award.
- HAVE FUN and ENJOY YOUR SWEETALICIOUS DAY!