THE LUCKY WINNER IS..
GIVEAWAY hosted by Samplicious Villager...

The Best Smelling Peaches & Cream Oatmeal Loaf Soap
($10.99 Value!)
No kidding! This is the best smelling soap I have ever made! It smells just like a bowl of peaches and cream oatmeal. Yummy!

This generous 14.8 ounce soap loaf is made with Goat's Milk, Colloidal Oatmeal Powder, Calendula Petals, Emu Oil and sprinkled with Gold Dust Mica and delightfully scented with Sangria White Peach. You can make 5 to 6 fair sized bars out of this loaf.

Colloidal oatmeal is finely ground oatmeal. Oatmeal and its natural oil coat, moisturize, protect and gently cleanse, while correcting the pH of itchy or inflamed skin back to normal. Colloidal oatmeal suppresses the "need to scratch," which is especially useful for use on irritated, dry skin.

Emu oil is a natural anti-inflammatory, pain relieving, moisturizing oil with a pH balance close to that of human skin. It has the ability to penetrate all five epidermal layers of skin, thereby providing nutrients like essential fatty acids Omega-3 & Omega-6 and moisturizing the skin. Moreover, since the composition of emu oil is similar to that of the skin, it gets quickly absorbed.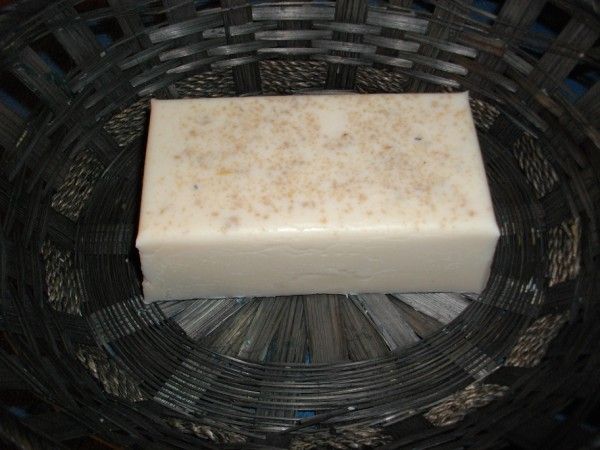 Extra Entries:
(One Entry Each, Leave Separate Comments)
Follow Sampler Village Blog (see side bar)
1 entry, tweet about this giveaway on Twitter
**Please make sure I have way to contact you when giveaway has ended, leave email in comment if not in your blogger profile**
**Please leave separate comment for each entry**

* This giveaway will run through May 26
GIVEAWAY OPEN TO U.S.A. RESIDENTS ONLY
* Winner will be selected at random from comments posted
* Winner will have 2 days to reply to the winning email notice with shipping information.
* Shipping information will be forwarded to Peggy and your winnings sent asap.
**Sampler Village reserves the right to delete any negative or unrelated comments.
**Sampler Village assumes no responsibility for product being given away.
GOOD LUCK EVERYONE and HAVE FUN!!