THE LUCKY WINNER IS..
Liked Sampler Village on FB.
facebook.com/danabeeman/
danabeeman(at)gmail(dot)com
~~~~~~~~~~~~~~~~~~~~~~~~~~~~~~~
GIVEAWAY hosted by Samplicious Villager...

Raw Sugar Infused with Madagascar Vanilla Beans and Naturally Decaffeinated (Chemical Free) Loose Leaf English Breakfast Tea
($30. Value!)
Our Raw Sugar Infused with Madagascar Vanilla Beans perfectly compliments our top of the line, naturally decaffeinated (chemical free) loose leaf English Breakfast tea. When this tea is blended with milk and our infused sugar, a comfy aroma similar to warm toast and honey with a hint of vanilla beans fills the air and palate.

Our Raw Sugar Infused with Madagascar Vanilla Beans is simple yet decadent; we spare nothing in giving you the highest quality product with an aroma as rich as the flavor. We use raw (unrefined) sugar, which retains its natural molasses, giving it a darker color and fuller, richer flavor. Next, we do not skimp with our infusion process. In addition to infusing with vanilla pods, we hand cut each vanilla bean, extract the actual vanilla seeds from the pod and mix these seeds into the sugar. With patience and time, the result is exactly what we strive for…two simple ingredients hand crafted together to create a flavor so rich you will want to eat it with a spoon. Trust us, it doesn't even compare to infused refined sugar! Our English Breakfast offering has been decaffeinated using a natural process, which means no chemicals are used and the flavor and health promoting compounds have not been compromised; it is a superior English Breakfast blend that is sure to please all palates.

Gift will include a 2 oz (approximately 20 cups) reclosable bag of naturally decaffeinated loose leaf English Breakfast tea, 6 oz of Kashton's Sugar Raw Sugar Infused with Madagascar Vanilla Beans and of course a Fairy Blessing from Ms. Fairy Princess (Kashton) herself.

*******************

Our hand crafted products proudly offer an all natural, personalized and affordable gift for yourself or another loved one. In addition, and perhaps most importantly, we hope they bring reminiscence of childhood beliefs that were once so passionate they had to be real...
* ABOUT OUR PRODUCTS *
Each Kashton's Sugar product is a simple pleasure. Inspired by simplicity, purity and of course, Fairy Princesses, we aim to nourish your body, senses and soul. Our belief lies within the realm of getting "back to the basics" with simple, all natural products and reminiscense of childhood dreams. We feel ingredients do not need to be altered, processed or complicated to be effective and childhood dreams are something we should never lose hold of. So together with my daughter Kashton, we have created the handcrafted line of Kashton's Sugar products. Before shipping, Fairy Princess Kashton casts her very best blessing upon each individual product with her very own "sugar" and the
touch of her sparkly wand.…her unfaltering belief in all things magical, and that she is indeed a fairy princess, assures that each product is bursting with her very own fairy princess blessing or any specific blessing you ask her to cast (written on enclosed gift card).
* PERSONALIZED GIFT OPTION *
All items are fairy blessed with the option for specific, personalized blessings (ie. "for complete bridal bliss indulgence on your wedding day"). If personalization is desired, just write the desired blessing in the notes section upon checkout and the blessing will be cast before shipping as well as written on an enclosed gift card. (no additional charge)
* THANK YOU *
Thank you for helping my daughter and I have this opportunity together. We hope you enjoy your Kashton's Sugar products as much as we enjoy making them....each product is a blessing to us as well.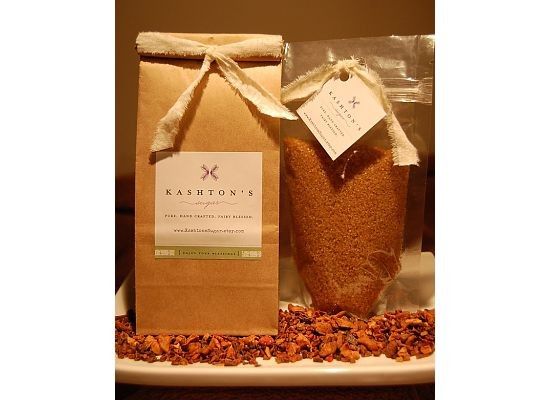 Free sample of Infused Sugar, English Breakfast Tea or Saigon Cinnamon Gayo Mountain Coffee with any order.
Just mention "Sampler Village" in notes to seller during checkout :)

Go to

KASHTON'S SUGAR

, then come back and leave a comment about which item you like best and WHY.
Extra Entries:
(One Entry Each, Leave Separate Comments)
Follow Sampler Village Blog (see side bar)
1 entry, tweet about this giveaway on Twitter
**Please make sure I have way to contact you when giveaway has ended, leave email in comment if not in your blogger profile**
**Please leave separate comment for each entry**

* This giveaway will run through MAY 17th
GIVEAWAY OPEN TO U.S. and CANADA RESIDENTS ONLY
* Winner will be selected at random from comments posted
* Winner will have 2 days to reply to the winning email notice with shipping information.
* Shipping information will be forwarded to the "Villager" and your goodies sent asap.
**Sampler Village reserves the right to delete any negative or unrelated comments.
**Sampler Village assumes no responsibility for product being given away.
GOOD LUCK EVERYONE and HAVE FUN!!