THE LUCKY WINNER IS..
I just can't choose a favorite. I want to eat them all. I love the little hearts in the Lick Me All Over Jar candle.
myheehaw at hotmail dot com
~~~~~~~~~~~~~~~~~~~~~~~~~
GIVEAWAY hosted by Samplicious Villager...

Jumbo Cupcake Candle - Watermelon Taffy Scented
($14 Value)
Jumbo Cupcake Candle! The watermelon taffy fragrance begins with top notes of watermelon, lime, lemon, and bergamot; followed by middle notes of marigold, sweet, juicy melon; with base notes of white musk and vanilla. Handwhipped icing sets atop this sweet cake adorned with 2 big juicy watermelon chunks and a dollop of whipped cream then sprinkled with a bit of red sugar crystals.

This Cupcake candle weighs approx. 1 lb

Please place in a small bowl of candle dish to burn candle.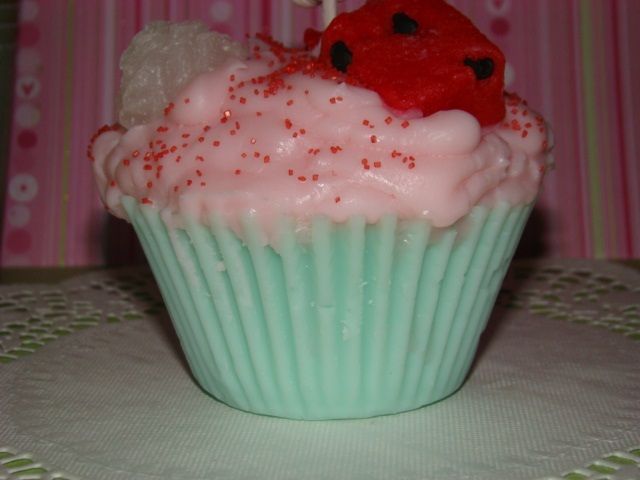 Extra Entries:
(One Entry Each, Leave Separate Comments)
Follow Sampler Village Blog (see side bar)
1 entry, tweet about this giveaway on Twitter
**Please make sure I have way to contact you when giveaway has ended, leave email in comment if not in your blogger profile**
**Please leave separate comment for each entry**

* This giveaway will run through May 10th
GIVEAWAY OPEN TO U.S. and CANADA RESIDENTS ONLY
* Winner will be selected at random from comments posted
* Winner will have 2 days to reply to the winning email notice with shipping information.
* Shipping information will be forwarded to the "Villager" and your goodies sent asap.
**Sampler Village reserves the right to delete any negative or unrelated comments.
**Sampler Village assumes no responsibility for product being given away.
GOOD LUCK EVERYONE and HAVE FUN!!