GIVEAWAY HAS ENDED!
THE LUCKY WINNER IS..
lolamichele said...49
I'd love to try the pink grapefruit bath bomb! sounds wonderful. :D

boswife @ gmail . com
~~~~~~~~~~~~~~~~~
GIVEAWAY hosted by Samplicious Villager...

Gift set for travelers-Desert Bloom Scent
(retail value $12.00)

Take yourself to the desert during the monsoons and smell the cacti in bloom. Feel the fresh clean and crisp scent lift you up and inspire you while you look up at the vast, wide sky... yet another perfect scent for those of you who prefer to avoid heavy florals and/or overly sweet smells in favor of clean and brisk.

The body butter is super rich, thick and creamy due to the addition of beeswax-sorry vegans! It is also high in vitamin E which naturally occurs in sunflower oil, one of it's main ingredients. Do your skin a favor and slather this all over dry hands, elbows and knees and soak in the moisture.

The goat's milk soap comes in a cubed container and is designed to break apart into 6 cubes weighing about .75 oz each and is perfect for jet lag skin due to it's mild formulation.

This giveaway is for one 4 oz body butter in a recyclable jar, one (approx) 3.5-4 oz container with 6 soap cubes and one custom designed gift tag (copyright of MESTEE 2011).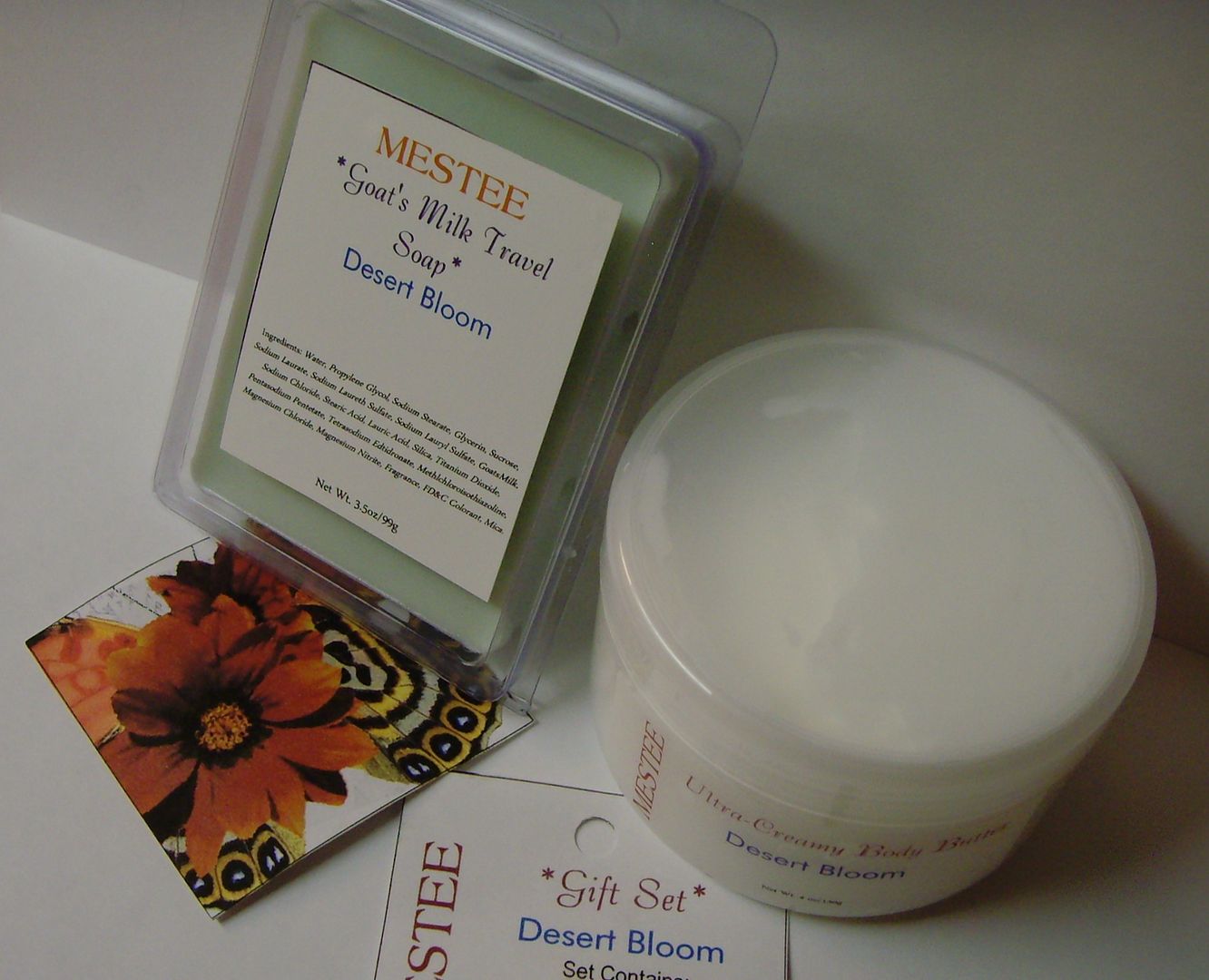 10% off everything in stock for Sampler Village and MESTEE fans!
Tell April which your a fan of at checkout and enter the code "Sampler2"

What you have to do to enter this great giveaway:
Go to

MESTEE

, then come back and leave a comment about which item you like best and WHY.
Extra Entries:
(One Entry Each, Leave Separate Comments)
Follow Sampler Village Blog (see side bar)
1 entry, tweet about this giveaway on Twitter
**Please make sure I have way to contact you when giveaway has ended, leave email in comment if not in your blogger profile**
**Please leave separate comment for each entry**

* This giveaway will run through FEBRUARY 22nd
GIVEAWAY OPEN TO U.S. RESIDENTS ONLY
* Winner will be selected at random from comments posted
* Winner will have 2 days to reply to the winning email notice with shipping information.
* Shipping information will be forwarded to April and your goodies sent asap.
**Sampler Village reserves the right to delete any negative or unrelated comments.
**Sampler Village assumes no responsibility for product being given away.
GOOD LUCK EVERYONE and HAVE FUN!!