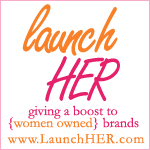 Launch HER
LaunchHER is new website dedicated to women in business.
Sallisha and Kara are just wonderful and want to promote women owned businesses and brands.
Read our online interview to find out more!!
A big "THANK YOU" goes out to Sallisha for taking the time to answer my questions ♥
1. What is LaunchHER?
LaunchHER highlights independent women-owned brands who are in the beginning stages of business.

We profile these ventures every Tues and Fri through our "Freshly Launched" feature.

The unique thing about our Freshly Launched profiles is that they are absolutely free. We highlight only those businesses who appeal to us and are definitely starting out on the right foot, from a business/branding/marketing perspective.
In addition to the Freshly Launched business profiles, Kara shares her legal expertise with our readers through the LaunchHER Law series. The series has proved to be very popular, most likely because Kara addresses really important legal considerations for start-up businesses, entrepreneurs, and indie businesses in a way that makes these complex legal topics very understandable.
The response to our acquisition of LaunchHER, our Freshly Launched profiles and LaunchHER Law posts have been overwhelmingly positive. We were getting so many inquiries from women who either already had a small business going and wondered what to do next, or those who had a really great business idea and didn't know how to launch.

So we responded to the marketplace's demand and now offer LaunchHER Consulting packages.

Our packages are tailored to meet the needs of each person and their business.

In addition, all packages are priced with a flat-fee- even the legal services. We are sensitive to the financial concerns of small businesses in the early stages and want to make really great advice available to all.
Plans are already in the works for LaunchHER LIVE Events in select US cities.
2. How did you conceive this wonderful idea?
7 short weeks ago, literally just a few days before the LaunchHER site was offered for sale to us, we had decided to "go into business together." We knew we wanted to offer our collective experience to women-owned business ventures, no matter what stage they were in.

We initially thought we would use Kara's law firm, Jensen Zitnick, P.A., as the vehicle for offering the business and legal tools and advice to women-backed business ventures for start-up success. When the acquisition of LaunchHER presented itself, Kara was on her way out the door to pitch our collective services to our first clients. That night, while grocery shopping at Target together, we realized LaunchHER was the perfect place for us to start with our consulting services because we could not only promote the women-owned ventures we love so much, but also mold LaunchHER to fit our vision.

Because LaunchHER was so new and a relatively unknown, we knew we could take it and run with it!
3. How can someone get involved with LaunchHER?
For those who have already launched their business, we can profile her business on our site.

Through our LaunchHER site and twitter, we reach literally thousands of people every day! Our twitter following has increased over 4-fold since we acquired LaunchHER just 7 weeks ago, and our site gets nearly 1500 visitors each week, on average!
Through LaunchHER Consulting, we can help women start and / or develop their businesses through our full-service consulting and legal packages.

We customize our flat-fee packages to the unique needs of each clients and are passionate about helping women launch and grow their businesses!
4. Where else can we find you online?
The latest and greatest on LaunchHER is also updated to our facebook site at
http://on.fb.me/cgFlLk
! We would absolutely love to hear from you!