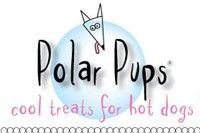 POLAR PUPS!
WHAT A "COOL" IDEA!
Stop by and visit Becky at Polar Pups!
These are frozen treats for your best friend, but they come in mix form, you add water then freeze them. HOW "COOL" IS THAT?
Polar Pups will be in our July Pamper Me/Pamper My Pet Boxes
Can not wait until July to try Polar Pups?
Then stop by and purchase some today!
Don't forget to tell Becky that you found her in the Village!